The FSW silver coins are now
SOLD OUT
Our thanks to all who purchased these handsome coins! You've a rare collectible to enjoy — a pocket memento of Free State Wyoming whether you've yet moved to Wyoming or not.
If we receive sufficient interest we may contemplate another 1,000 coin mint run, in 2007. While the reverse (of the buffalo) would be identical, the obverse would feature a high-relief image of Wyoming.
Those who wish to contribute some of their own silver in a partnership deal, let Boston know.
Own a piece of Free State Wyoming in your pocket! And once you've moved to Wyoming, trade it with your FSW neighbors!
Actual size is 39mm diameter
1 oz. of .999 fine silver
Beautiful design in high relief
Effective 25 February 2006, only one coin per customer and address (no coins sold in quantities).
SOLD OUT
Since silver is rapidly climbing and just closed over $13, we now accept orders based on the postmarked date of spot price only + $13 ($10 premium and $3 S&H).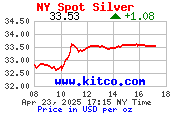 Take spot price, round up/down to the nearest dollar, add $13, and send that amount in cash. (Print out this page showing the spot quote and include with order, please. Date of quote must be the same as date of postmark.)
20-coin tubes are SOLD OUT.
Proof coins are SOLD OUT.
SOLD OUT
Terms: Cash only, to:
Javelin Press
P.O. Box 31S
Ignacio, Co. 81137-0031